Oil&Gas
Uganda's oil production on course as CNOOC'S oil drilling rig arrives at Mombasa, TotalEnergies Rig is Expected in November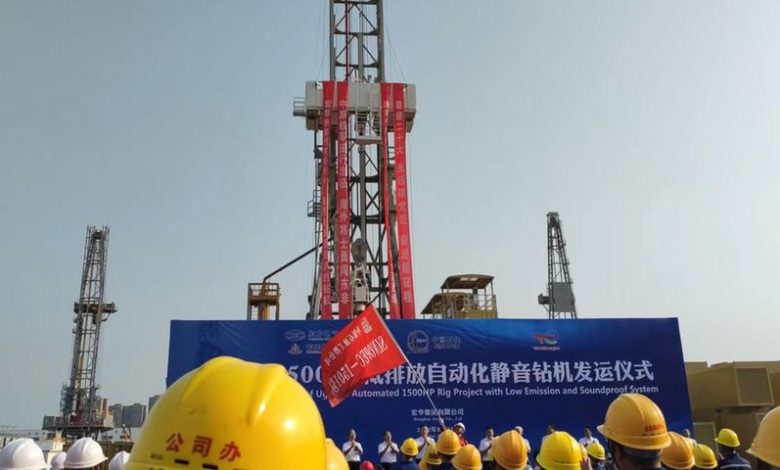 By Our Special Correspondent
The production of Uganda's oil in 2025 remains on course as contractors – CNOOC and Total Energies have registered another milestone with the completion of their first oil drilling rigs for the Tilenga project after passing endurance tests at the Honghua Factory, Guanghan City in China.
The huge -costly equipment which were shipped and have been on the high seas on the journey to Uganda is said to have arrived at the East African port of Mombasa according to a tweet from CNOOC Uganda Limited . The one of Total Energies is expected to arrive in Uganda in November ,2022.
" Steps to first oil.@ CNOOC Uganda Ltd Kingsfisher oilfield rig reaches Mombasa port and will soon be in Uganda and there's no turning back," CNOOC Uganda stated on their official Twitter handle.
Once production commences -the oil will be transported to the sea port of Tanga in Tanzania through the East Africa Company Oil Pipeline ( EACOP) and will traverse the ten (10) districts of Hoima, Kikuube, Kakumiro, Kyankwanzi, Gomba, Mubende, Lwengo, Sembabule, Kyotera and Rakai in Uganda costing (approx. US$3.6bn).
CNOOC is one of two licensed oil companies that will work on the EACOP project till 2025 when the first oil is expected to be produced in what will be historic milestone for Uganda and the East African region . The other company involved in EACOP project is Total Energies Co. ltd .
Of the total 1,443km, Uganda will host 296 km of the pipeline. This is going to take up about 2,740 acres of land. A final Resettlement Action Plan report was submitted to the Ministry by the Pipeline Project Team (PPT) and the report was approved in 2021.
Total Energies' Tier one contractor Zhongyuan Petroleum Exploration Bureau (ZPEB) received the oil rig code named 'ZPEB Rig 1501' at the official handover ceremony in China . ZPEB undertook to deliver the rigs after they – won the multi-million contract for the detailed designs and construction of oil drilling rigs for Uganda .
Total Energies Uganda Consultant Mr Thierry Vinay was excited about this giant step forward and has stated thus;" "This signifies progress towards the commencement of our drilling activities and subsequent delivery of first oil in Uganda. Thank you to all the teams that have worked tirelessly on building this rig and we look forward to receiving it in Uganda."
The oil rig will be deployed to ensure the first oil production in 2025 at 400 oil wells -north of Lake Albert in Buliisa and Nyowa districts.  According to a statement from Total Energies – the 'ZPEB Rig 1501' is a highly innovative 1,500 Horsepower (HP) walking land rig with full integration, automation, low emission and is fully soundproofed. The rig's 1,500 HP is equivalent to the horsepower of four heavy duty trucks.
The substructure and rig floor integrates all the necessary equipment to allow its movement from one oil well to another well during drilling operations without equipment disconnection.
The testing of the rig involved 100 percent of the rig equipment being installed and run simultaneously and continuously for 24 hours up to maximum working pressure (90 percent) of the system.
Total Energies says that -a 24-hour endurance test is so stringent, that if a problem is identified requiring stoppage for more than 30 minutes, then a 24-hour count must be restarted to ensure that the problem is resolved.
On their part, while providing more information about this important development , CNOOC said their rig the first that will be deployed in East Africa region – has been customized for its Kingfisher wells . CNOOC says the rig is a fully automated silent industrial equipment that is outfitted with industry -leading technologies such as well -site de-noising control , a zero discharge system ,and a pipe column automation system.
Total Energies will undertake drilling of more than 400 oil wells spread across 31 well pads in six fields (Jobi Rii, Ngiri, Gunya,Kigogole, Nsoga, Kasemene and Wahrindi) in Nwoya and Buliisa districts.
The company is undertaking major infrastructural developments to allow timely drilling operations that will include the construction of the Tangi Operation Support Base camp. Some 600 oil workers for the exploitation of oil resources within Murchison Falls Park will be housed here .
The company is also undertaking civil works of the industrial area in Buliisa District. This covers 300 hectares and it will host the Central Processing Facility (CPF) operating for 24 hours with camping facilities for 4,000 people, an operations support base, drilling base, wastewater treatment plant, and a lake water abstraction system.
The CPF will process 190,000 barrels of oil per day with a supply of crude oil through 160 kilometers of flow-lines from the oil wells.  Another 95 kilometre-24 inch feeder pipeline will transport the processed crude oil from the central processing facility in Buliisa to the export hub and refinery in Kabaale in Hoima.
Minister Hon. Dr. Nankabirwa busy clearing all the hurdles to ensure smooth implementation
Energy Minister Hon. Ruth Nankabirwa and the ministry's technical team led by Eng. Irene Batebe has been working around the clock to clear all obstacles that could undermine the fast and smooth implementation of the strategic national development project . The Ministry of Energy has since speared headed the passing of the East African Crude Oil Pipeline (EACOP) (Special Provisions) law – which is an important "legislation of our time"- because it will facilitate the first crude oil pipeline development in Uganda and the East African Region.
Nankabirwa has said that the law will facilitate the Implementation of  two important agreements – the Intergovernmental Agreement (IGA) between the Republic of Uganda and the United Republic of Tanzania which was signed  on May 26 2017  and the  Host Government Agreement (HGA) -which  was entered between the Republic of Uganda and the EACOP Company.
Moses Paul Sserwanga Esq.
Media and Communications Consultant /Advocate of the High Court
msserwanga@gmail.com
C/O Prime Time Communications Ltd