Infrastructure
Housing Sector Players Advocate Affordable Housing in Informal Settlements
Housing Sector Players Advocate Affordable Housing in Informal Settlements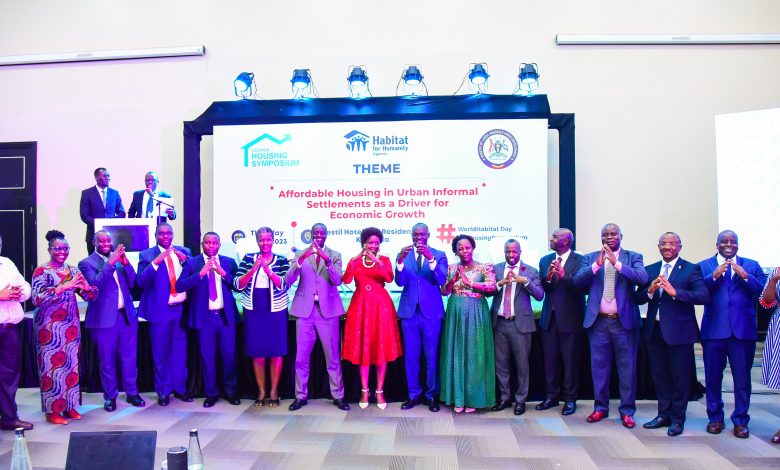 By Gloria Kembabazi
Sector players in the housing sector have joined hands to advocate affordable housing in informal settlements. This was during the second edition of the Uganda Housing Symposium which was  held to discuss and share ideas on efforts to promote affordable housing.
The symposium which brought together stakeholders from government, private sector, public and international delegates was held under the theme 'Affordable Housing in Informal Settlements as a Drive for Economic Growth.'
Minister of Lands, Housing and Urban Development Hon. Judith Nabakooba who officiated at the opening ceremony said that government is committed to creating safe housing for all. She however, noted that in order  to achieve this goal there is need to improve on resilience functions in the housing development process working together with the public and private sector.
The Minister said that Uganda currently faces an acute housing deficit of approximately 2.5m. This deficit is a function of supply constraints and there is limited effective demand for formally constructed housing units due to high costs. As a result, the majority who cannot afford formal housing are pushed into slums.
Lands Minister Nabakooba in red attire with Habitat for humanity officials
Nabakooba said that this year's World Habitat Day theme; 'resilient urban economies' addresses the bottlenecks we all appreciate in order to ensure that the local urban economy works effectively, including the housing sector. "Building greater resilience and better protecting especially in urban vulnerable populations, requires far greater investments in sustainable infrastructure and affordable adequate housing for all."
The Minister  told the gathering  that government recognizes affordable housing as a key component for socio-economic development and it has already been anchored in the National Development Plan III under Sustainable Urbanization and Housing subprogram.
"Government has directly intervened in various attempts to address affordability issues by establishing a land bank to build a block of land from excess land holdings; surveying and registering all public land and land under customary tenure; reviewing property tax policies to encourage the development of land for low-cost housing that is affordable"
She further added that government has instituted enforceable policies and legal instruments to guide and set standards for land valuation; regulated, guided and promoted the real estate sector, as well as established mortgage refinancing to address unfavorable terms by financial institutions.
Maurice Makoloo, the Area Vice President for the Africa region at Habitat for Humanity, explained that the housing symposium is a platform for sector players to renew their commitments to provide habitatable and affordable housing to the public.
He urged the sector players to involve young people when addressing the housing crisis. "Youth must be audible and their efforts must be visible. We must harness their creativity, intellectual, physical and emotional energy while addressing the housing crisis," he mentioned.
Robert Otim, the Country Director of Habitat for Humanity Uganda, pointed out that the organization has partnered with government, financial institutions, slum dwellers among other stakeholders in its recently launched Home equals campaign which is aimed at instigating policy changes at all levels to ensure that individuals residing in informal settlements gain access to adequate housing.
Otim noted that the Uganda Housing Symposium is a platform that brings together likeminded actors in the sector to discuss and create solutions that resonate with the majority of Ugandans. "As Habitat for Humanity, we are committed to continue working with the Ministry of Lands Housing and Urban Development and various stakeholders to convene the annual housing symposium in Uganda."
The Second National Housing Symposium was dominated by discussions around the key challenges facing the housing sector in Uganda, highlighting the mitigation strategies that have been used so far and exploring required innovative solutions for accessible, inclusive, affordable, and decent housing for the benefit of all Ugandans.
The symposium was organized by Habitat for Humanity Uganda together with the Ministry of Lands, Housing and Urban Development and other development partners. It was convened at the esteemed Mestil Hotel .