Infrastructure
Habitat for Humanity Uganda partners with Nation Media Group to fundraise and raise over UGX 1 billion to build houses for the vulnerable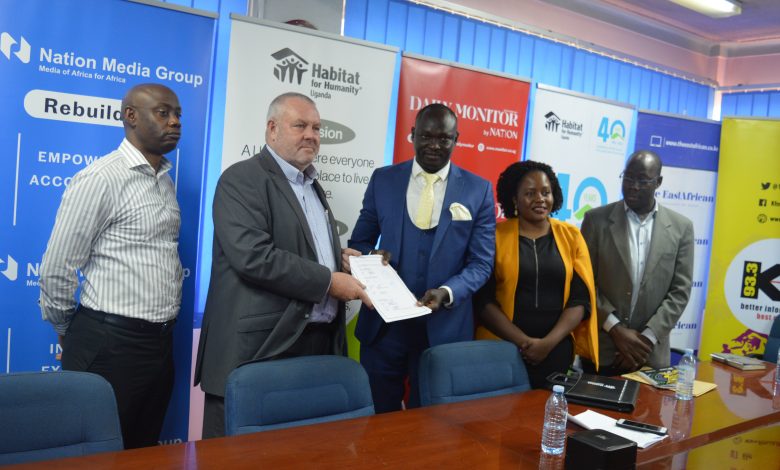 By Gloria Kembabazi
Habitat for Humanity Uganda (HFHU) has joined hands with Nation Media Group (NMG) to undertake a major nationwide fundraising drive that is set to raise over UGX one billion to support 40 vulnerable families in need of  decent housing in Uganda.
This partnership was sealed with the official signing of a Memorandum of Understanding (MOU) between Habitat for Humanity Uganda led by the National Director Mr. Robert Otim and the Managing Director Nation Media Group Uganda Tony Glencross.
This comes at a time when Habitat for Humanity Uganda is hosting the first ever Uganda Housing Symposium to take place on the 6th October 2022 to be held under the theme "Affordable and Inclusive Housing solutions for all".
According to the HFHU National Director Mr. Otim , the symposium will be an opportunity for all partners in the housing sector to showcase, nurture, promote and pilot innovative solutions that will improve the housing sector in the country.
He said that, "the symposium will promote enterprise development, knowledge sharing, generate willingness and increase institutional and regulatory support for mainstreaming sustainability dimensions within housing projects, programs and private sector housing development."
Through the officiated partnership, Nation Media Group will help create awareness and contribute to mindset change by showcasing and promoting innovative solutions that will improve the housing and urbanisation of the sector.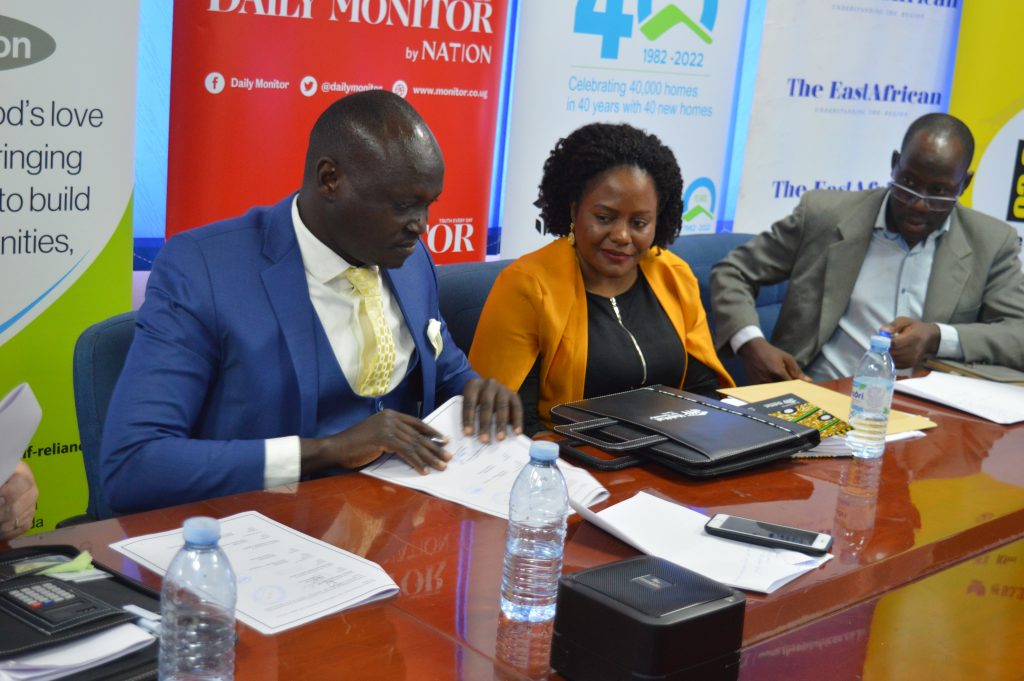 Tony Glencross expressed his excitement  about the partnership  with HFHU towards the goal of raising over a billion shillings to allow construction of at least  40 housing units for the needy families across Uganda.  He noted that as the media, their responsibility is to provide visibility for the symposium, report about the success stories  and activities in the housing sector.
"We are fortune that we have the mediums which can reach the different parts of the country to be communicated as much as we can. We are able to report news cases of the vulnerable and show case the transparency in the processes of identifying the vulnerable people in need of decent housing in different parts of the country."
Otim said the symposium and fundraising  drive – will not only empower vulnerable communities to have a decent home under the decent living campaign but also provide Uganda with the opportunity to explore and grow the sector with immense opportunities to realize access to decent housing for all income levels of people.
Brendah Luyiga the Communication and Advisory Specialist Habitat for Humanity Uganda called upon partners in the housing sector to use the Uganda housing symposium as an opportunity to showcase and exhibit innovative ideas on how to promote low cost house building technologies.
"The housing symposium  will  have various stakeholder engagements including  panelists and speakers from the housing sector. We call upon people interested stakeholders  to register and  exhibit their services and products and  also sponsor the event whose proceeds will be used to support 40 vulnerable families in Uganda," she said.
Habitat for Humanity Uganda is the leading housing organization in Uganda whose goal is to make sure that all Ugandans have a decent place to call home. It was established in 1982 and to date has built, improved and rehabilitated over 40,000 houses in Uganda transforming lives of over 240,000 individuals.
As it celebrates 40 years of establishment in Uganda, HFHU plans to build 40 new houses for 40 vulnerable families in need of decent housing. It therefore calls upon support from the public towards achieving this goal.