Automotive Industry
Infrastructure
Members of Parliament pledge to support Kiira Vehicle Plant in Jinja
Members of Parliament pledge to support Kiira Vehicle Plant in Jinja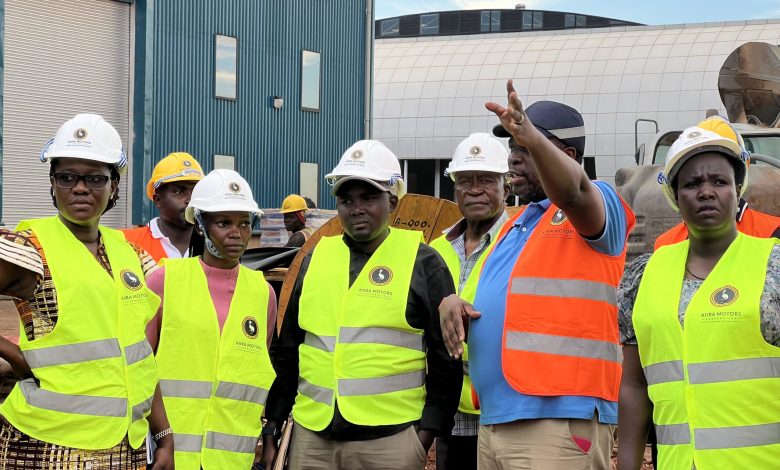 By Gloria Kembabazi
JINJA — Members of Parliament on the Parliamentary Presidential Affairs Committee have commended Kiira Motors for championing the country's nascent automotive industry and pledged their support to see that Uganda achieves its mobility aspirations.
The MPs were on an inspection tour of the Kiira Vehicle Plant in Jinja. Led by their Vice Chairperson, Hon Twalla Fadil, MP for Tinge County, the MPs commended Kiira Motors for transiting from a research and academic project to commercial enterprise that is today cash positive.
"We came to see how far the project is and we have seen the impressive work that is being done here. "We are pleased with the work that has been done so far and we will support you because this is a company of national strategic importance," said Hon Nsaba Butuuro of Bufumbira East, who was also part of the delegation.
Hon. Evelyn Chemutai, the Woman MP of Bukwo District urged Kiira Motors to have an incubator where the young inventors who aren't able to go far with their education can have space to learn and get the skills they need to work in the automotive industry.
"Use this facility to train many Ugandans especially those who don't have formal education by setting up an incubation centre so that they can get the required skills," she said.
She revealed that on a recent trip to India, she met several people who were asking her about Kiira Motors. "I am very impressed by the work being done here by Kiira Motors Corporation. Out there, people see what you are doing. In India, they asked me about you. People are watching with interest what you are doing and don't let us down," she said.
She urged her colleagues to continue supporting Kiira Motors so that it can realize its goals.
Paul Isaac Musasizi, the Kiira Motors Chief Executive Officer said the company has built synergies with the private sector and development partners to explore sustainable multisectoral backward, forward, and lateral linkages which are pivotal in promoting local content participation in building the indigenous motor vehicle industry in Uganda.
On the question of how Kiira Motors is retaining talent, Musasizi urged the MPs to ensure there are no gaps in funding. "We have talent and we have trained them. But if they are uncertain if the company will be funded tomorrow, they will seek jobs elsewhere and they can work in any country in the world," he said.
At the moment, Kiira Motors is installing production equipment at the plant to enable it start vehicle production in Jinja in 2024. At the moment, Kiira Motors vehicles are being produced at Luweero Industries in Nakasongola awaiting the finalization of the plant.
The government of Uganda is the major shareholder of Kiira Motors with 96% ownership. The remaining 4% is owned by Makerere University. As a public entity, it is upon the government to continue investing the required resources even when the company is cash positive.
Kiira Motors makes money from contract manufacturing, vehicle sales, bus hires, and electric vehicle charging facilities.
The establishment of the Kiira Vehicle Plant which sits on 100 acres of land is poised to catapult Kiira Motors Corporation along a sustainable growth trajectory cognizant of the disruptive industry vehicle technologies including connected, autonomous, shared, and electric vehicle technologies.