Automotive Industry
Science & Innovation
National Science Week :Kiira Motors Corporation leading the E-mobility Revolution in Uganda
National Science Week :Kiira Motors Corporation leading the E-mobility Revolution in Uganda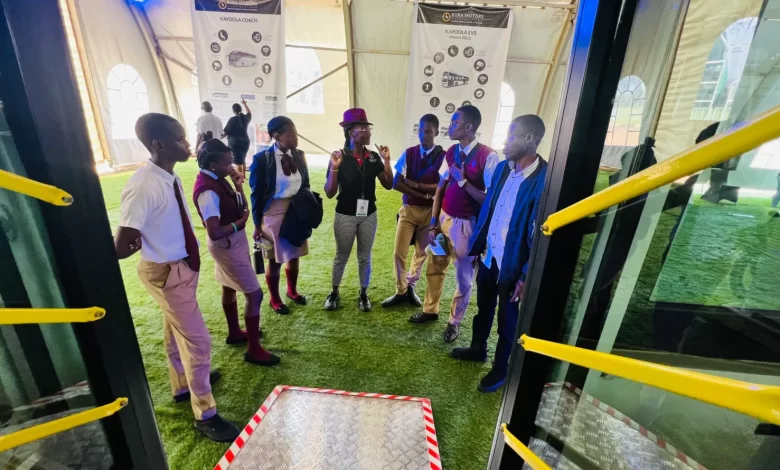 By Gloria Kembabazi
In a remarkable celebration of scientific achievements, Uganda's National Science Week which started on Monday  is showcasing groundbreaking innovations that are propelling the country towards a brighter future.
The National Science Week is organized by the STI Secretariat Office of the President  under the theme "Uganda Tusimbudde: Our Science Led Journey Towards Socio- Economic Transformation".
Uganda's premium product Kayoola EVS-the first of a kind in East Central Africa is one of the exhibitions that have attracted the attention of both the exhibitors and show goers .
According to Ms. Ruth Nasejje, the Senior Media Strategist at Uganda's automotive flagship- Kiira Motors Cooperation , the company's products ,the Kayoola  Buses are more than just a mobility industry venture. "They represent HE President Museveni's  strategic endeavor to spur technological growth, environmental stewardship, job creation, and international competitiveness," she stated.
Students from various  in and around the country expressed excitement as they boarded and had a feel of Kayoola fully electric buses. The students were fascinated by the unique features on the buses which include special seats for preganant women, a ramp for people with disabilities , cameras, Wifi, charging points, an electronic ticketing system among others.
Elly Aijuka,a student at Makerere Secondary School commended Kiira Motors for having managed to overcome the challenges associated with electric vehicle adaptation in Uganda.
Ms. Doreen Tusiime , Manufacturing Engineer at KMC explained that Kiira Motors Corporation has focused on localizing the production of electric vehicles, ensuring that they leverage Uganda's resources and expertise.
"By collaborating with local manufacturing industries, we have nurtured a skilled workforce capable of designing and producing electric vehicles. Additionally, we have established partnerships with international organizations to collaborate on cutting-edge technologies,"  she Tusiime added.