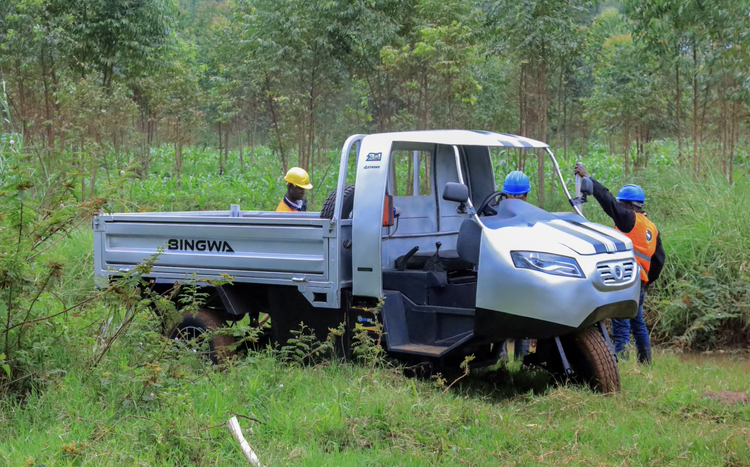 By Gloria Kembabazi
Ugandans have expressed joy and pride in the country's latest innovation, 'Bingwa'  the three-wheeler commonly known as Tuk-Tuk developed by of a group of self-trained innovators led by Rogers Mubiru under their company Kevoton Motions Engineering Ltd.
During the recently concluded Uganda Manufactures' Trade Show at the UMA Lugogo  grounds which gave a platform to various traders and innovators to exhibit their products to the public Bingwa  attracted huge  attention from both local and international exhibitors and show goers who visited its stall in pursuit of more information about its functionalities .
According to Peter Kiwanuka, one of the innovators under Kevoton Motors Engineering Limited the Bingwa trike was developed for three purposes including; mobility, water pumping for irrigation in the rural areas and electricity generation which will highly solve challenges for people across the country who are predominantly farmers.
"The Bingwa has the ability to transport 1,000kg of goods, pump 6,000 litres of water per hour for irrigation and generate 6kw of electricity every hour, thereby solving some of the farmers and rural households' most immediate challenges," he said.
Byomuhangi Emmanuel, a teacher at St. Andrew Kaggwa Secondary School and an agriculture enthusiast expressed gratitude for the Ugandan made innovation especially because it caters for farmer's needs. "It is a very good innovation. I like it because it is agricultural-based and it being a 3-in-1 trike, it will be of great help to individual farmers," he pointed out.
A business man and show goer Joachim Ssegawa  was most thrilled by the locally developed engine and system that allows the Bingwa to perform various functions. Noting that "with such innovations there is hope for Uganda".
Charles Mugisha,  a secondary teacher at Kasengejje Secondary School said thus: "I believe that such innovations are the country's pride. I hope the general public can get access to more information about Uganda's innovative efforts. We are grateful and proud of the Bingwa innovation."
The Bingwa was successfully launched by the President of Uganda H.E Yoweri Kaguta Museveni during the 61st Independence Day celebrations  held in Kitgum District. This was after a number of practical demonstrations of the Bingwa's capabilities at Akworo small scale irrigation scheme in Kitgum.
The Bingwa trike uses diesel and will cost UGX 28 million, lower than what one would spend if they were to buy an ordinary tuk-tuk, water pump, and a power generator.