Housing
Infrastructure
News
Habitat for Humanity Uganda calls upon the media to advocate affordable housing in informal settlements
Habitat for Humanity Uganda calls upon the media to advocate affordable housing in informal settlements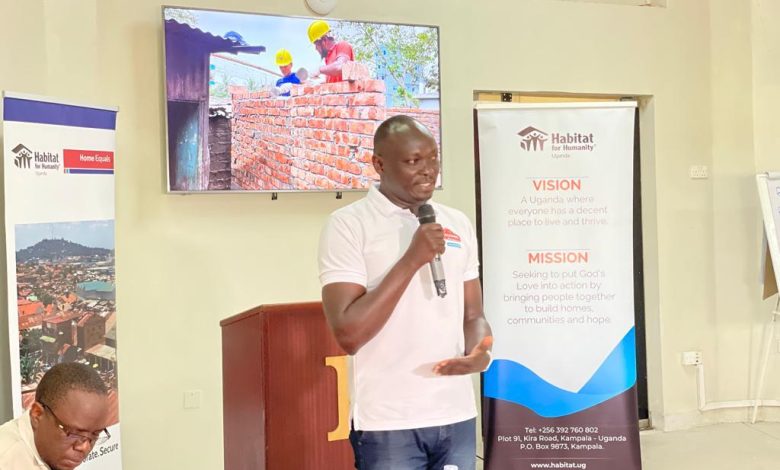 By Gloria Kembabazi
Habitat for Humanity Uganda (HFHU) has appealed to the media to join its advocacy campaign for affordable housing in informal settlements in Uganda under its recently launched Home Equals campaign.
The Home Equals campaign is a five year advocacy campaign dedicated to achieving policy change, at all levels, to ensure that people living in informal settlements have equitable access to adequate housing.
Speaking during the Home Equals media dialogue attended by journalists from 20 media houses, Mr. Robert Otim, the HFHU National Director recognized the vital role media plays in raising awareness, mobilizing resources, and driving social change which are very crucial to the campaign.
He explained that the Home Equals campaign aims at addressing the housing crisis in Uganda by focusing on three main issues including adequate housing, access to basic services, and tenure security in informal settlements.
"We believe that the media has become an essential ally in promoting the campaign's goals and empowering communities.  The goal is to get the media more actively involved in advocacy for the informal settlements but most importantly to share information, promote learning and highlight challenges faced by people living in informal settlements," Otim said.
The National Director further emphasized that media serves as powerful channels to amplify the voices of those affected by the housing crisis. Through publishing human-interest stories, interviews, and documentaries, the media sheds light on the challenges faced by marginalized communities and helps foster understanding and empathy among the general public.
"Media platforms have the power to mobilize resources and rally support for informal settlements through fundraising drives, talk shows, and public service announcements. The media encourages various stakeholders to contribute financially or volunteer their time and skills towards the campaign. The media's reach and influence can significantly impact the success of the campaign in terms of securing resources and expanding its reach," he said.
Paul Mayende, a Communications and Advocacy Manager at HFHU noted that about 1.8 billion people globally in urban centers struggle to find decent and affordable housing which is fueled by urbanization which forces people to move from villages to urban centres.
He stated that the Home Equals campaign therefore ,seeks to advocate for increased collaboration with settlers of informal settlements, accessible quality services and improved land governance and leadership by local government land committees.
Mayende noted that media outlets play a crucial role in advocating for policy changes that address the root causes of the housing crisis. By highlighting the inadequacies in existing housing policies and showcasing the impact of Habitat for Humanity's work, the media can spur public discourse and encourage policymakers to prioritize affordable housing and sustainable urban development.
Diana Akongo, a Communications officer at HFHU, said thus : "By amplifying voices, raising awareness, advocating for policy change, and celebrating achievements, the media plays a crucial role in promoting the campaign's goals of providing safe and decent housing for all. Through our partnership with the media, Habitat for Humanity Uganda is able to reach a wider audience, inspire collective action, and create lasting change in the fight against the housing crisis", she said.