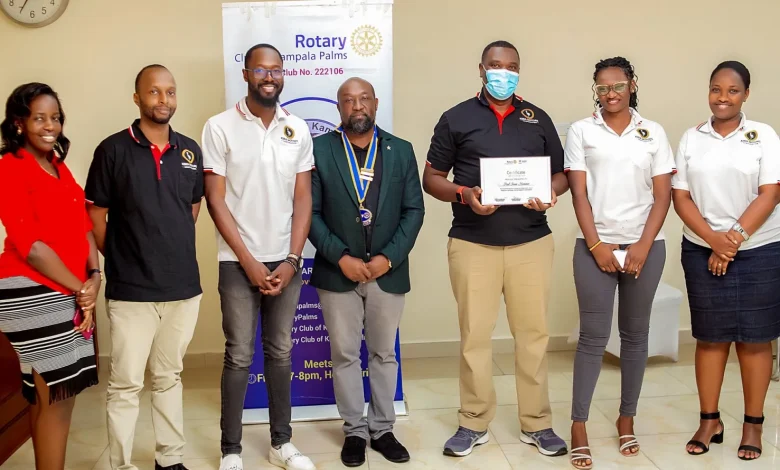 By Sierra Ruth Arinaitwe
The members of the Rotary club of Kampala Palms hosted the Kiira Motors Corporation CEO Mr. Paul Issac Musasizi for a presentation on electric vehicles and the future of E-mobility in Uganda.
In his presentation ,Mr. Musasizi discussed the advantages and some of the challenges relating to electric vehicles- which the Rotarians described as an eye opener about Uganda's transition to E-mobility following President Yoweri Museveni's directive – to mitigate the soaring pump prices and pollution levels in the country .
Musasizi urged the Rotarians to take part in the E-mobility eco system citing exciting opportunities in automotive industry such as energy, transport planning system, value chain financing, research & development, digital infrastructure and policy regulation &standards.
"Rotarians are not only opinion leaders but rather lead by example," Mr. Musasizi said as he called them to action to be exemplary in Uganda's transition to E-mobility.
The Kiira Motors CEO emphasized the need to prioritize  local manufacturing of E-buses, motorcycles, components and systems; establishment of EV charging infrastructure; establishment of vertically integrated steel industries; local manufacturing of electric vehicle batteries, establishment of a mass transit system; and government's off takes and protection of domestic infant industries.
Mr. Phillip Semaganda the President of Rotary club of Kampala Palms underscored the need for increased public awareness about electric vehicles especially about their affordability and how favorable they are to the environment.
"I pledge to be an ambassador for electric vehicles, people need to be more informed about e-mobility solutions as -a major move for Uganda's transition to E-mobility," he said.
Mr. Bob Mayeku, a Rotarian appreciated the Kiira Motors CEO for sharing  information about E- mobility- saying they are now better informed about electric vehicles.