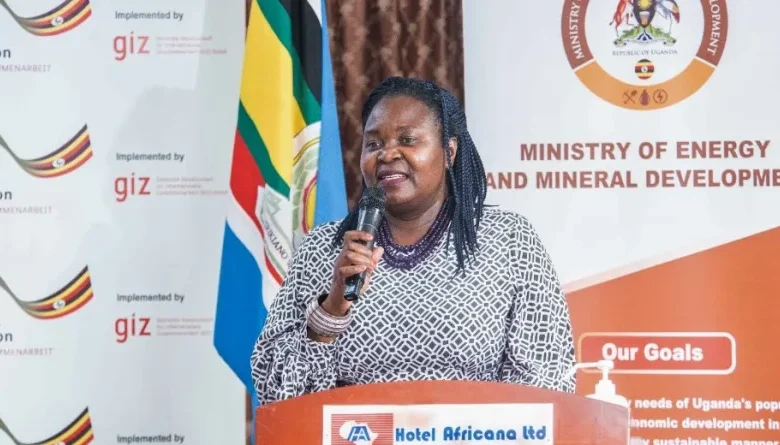 By Sierra Ruth Arinaitwe
The Ministry of Energy and Mineral Development has officially launched its first gender strategy to address gender and equity gaps that exist in the energy, minerals and petroleum programmes regarding access to utilization and benefiting from energy and mineral resources, products and opportunities.
The development of the gender strategy which was officially launched by the Minister of Energy and Mineral Development Hon. Ruth Nankabirwa, was guided by the Uganda Gender Policy, 2007 which requires all sectors to design interventions that address gender inequalities within their mandate.
Hon. Nankabirwa pointed out that energy ministry has gender sensitive sectors working on community issues which one may think are best managed by the male gender due to the nature of the work such as mining, energy generation among others. "Women were previously excluded from taking part in public life for instance, in the mining industry, women were not allowed to go in underground mines, it was a belief that they would bring bad luck especially if they were in their monthly periods."
However, the recently enacted Mining and Minerals Act (2022) removed restrictive practices on women participation in the mineral sector and protect children against mining hazards. "Under this Act license holders or applicants are required to provide a framework for gender mainstreaming and eradication of child labour in the mining industry; keep records that are gender sensitive; make gender sensitive community agreements and; establish systems that prevent human right abuses in the workforce and provision of gender sensitive facilities," said the minister.
The Gender Strategy has also been developed as one of the tools to guide all agencies that implement the sector mandate in ensuring that all stakeholders are not merely consulted, but that every policy, programme or project should include specific targets deliberately designed to transform their livelihoods.
Hon. Nankabirwa further stated  that the gender strategy will guide the managers in all agencies to overcome issues such as inadequate capacity and appreciation of gender and equity issues, imbalances in staffing, lack of gender disaggregated data to lack of employable skills among the youth especially females.
She further noted that successful implementation of the strategy will reduce imbalances in access and use of resources and services that the sector provides thereby contributing to increased household incomes, poverty alleviation, and national socio-economic transformation.
"Further emphasis will be put on capacity building to empower women to expand access to Energy, Minerals and Petroleum products and services, thereby improving uptake, creating jobs, and reducing poverty," said the minister.
The Ministry is also working to enhance women's business opportunities in the Minerals and Energy sub-sectors with efforts geared towards supporting women as entrepreneurs and service providers in mining and mineral products but also as beneficiaries of clean energy technologies for productive use.
While delivering the speech on behalf of the Permanent Secretary, Ms. Grace Tusiime noted that the Gender Strategy has been developed to also guide the different programs under the ministry to support capabilities and opportunities of the vulnerable and marginalized population which eventually contributes to socio-economic transformation.
"The Ministry of Energy and Mineral Development has already taken steps towards gender mainstreaming. At the Programme level, the Ministry ensures that plans and budgets are Gender and Equity responsive. For projects, resources are allocated for gender sensitive compensation and resettlement of Project Affected Persons (PAPs), and implementation of Community Development Action Plans (CDAPs) in project affected areas," she said.
The Energy ministry developed the strategy together with the Ministry of Gender, Labour and Social Development with support from the German Federal Ministry of Economic Cooperation through GIZ Energy and climate programme (PREEEP) and the EU co funded GIZ Civil Society in Uganda support programme (CUSP) among other partners.