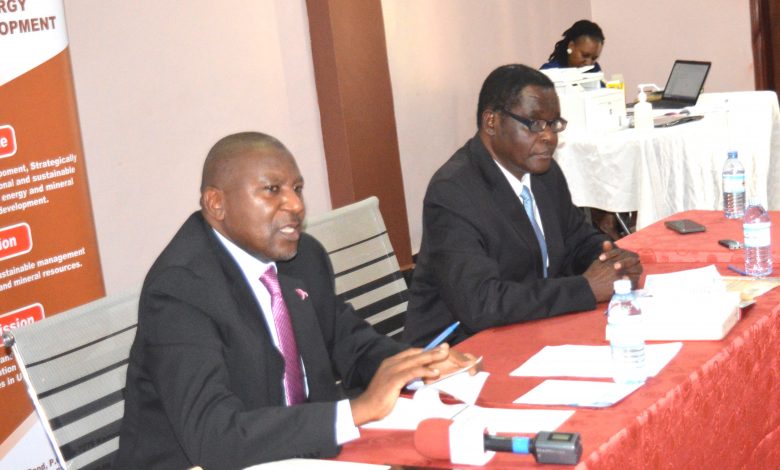 By Gloria Kembabazi
The new members of Uganda's Electricity Disputes Tribunal (EDT) have been officially inducted at an event presided over  by the judge of the High Court of Uganda His Lordship Justice Musa Ssekaana.
The Electricity Disputes Tribunal established under the Electricity Act is mandated to hear and determine all matters referred to it relating to the electricity sector save for the trial of criminal offences.
The Tribunal has all powers of the High Court and can therefore handle all disputes involving the regulation, generation, transmission and distribution of electricity in Uganda.
Justice Ssekaana informed members of the tribunal that they are authorized to conduct proceedings without procedural formality, but they are obliged to observe the rules of natural justice, and may regulate their own procedures.
An aggrieved person may also resort to the Tribunal to remove or alter the route of any electricity power supply line, or any question as to entitlement to compensation -to the right of use or as to sufficiency compensation to a consumer who has suffered damage or loss caused by the negligence of the holder of the electricity power supply license.
He cautioned the tribunal about enforcement of their rulings. "After you have determined a matter and handed down a verdict , you have to give it time for the party affected to make good as directed in the tribunal's decision . Otherwise ,the  Tribunal decisions and orders  are executed and enforced in the same manner as those of the High Court," he said.
Judge  Ssekaana further advised the tribunal to always seek technical advice from persons with specialized knowledge to assist it in its proceedings  and findings .
Mr. Charles Okoth Owor ,the Chairperson of the Electricity Disputes Tribunal pointed out that they currently have about 250 ongoing cases/complaints. "To ensure that there is no back log and efficient resolution of disputes, we try to encourage parties to settle matters without lengthy litigation ."
He said the tribunals help to resolve the disputes which would have  delayed in the normal court system given the many cases and big backlog .
The Electricity Disputes Tribunal is constituted of the Chairperson, Vice Chairperson who must be persons qualified to be judges of the High Court and other members. The Tribunal has a registrar of the High court who is responsible for the day today administration of the Tribunal.
The inducted members on the tribunal include; Charles Okoth Owor the Chairperson, Anaclet Turyakira  the vice chairperson and Advocate, Engineer Dr. Terry Kahuma, a former Executive Director of the Uganda National Bureau of Standards and  also the Dean of Science and Technology at Kampala International University (KIU).
Others are  Christine Muhindo, the presidential advisor in charge of affairs in the Rwenzori region, Harriet Wanyoto , Judy Mike Mudooma and Engineer Paul Mubiru.