Energy
Energy Minister Nankabirwa commissions power line in Sheema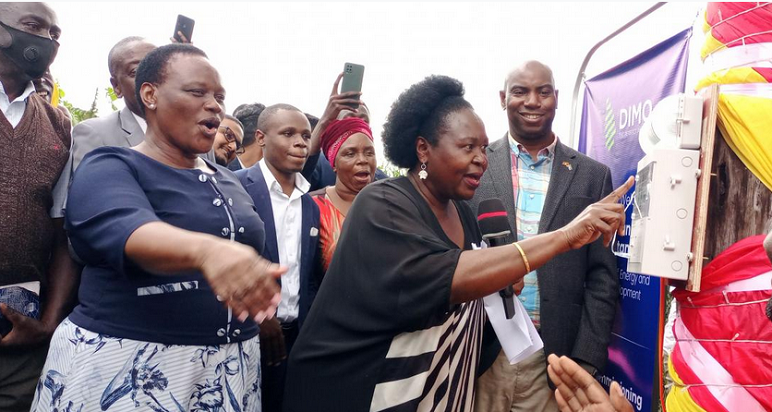 By Sierra Ruth Arinaitwe
The residents of Sheema Municipality in Western Uganda are in high spirits following the commissioning of the Rural Electrification Project in their area.
The power line was officially commissioned by the Minister of Energy and Mineral Development Hon. Dr. Ruth Nankabirwa accompanied by the area MPs Hon. Dickson Kateshumbwa and Hon Rosemary Nyakikongoro.
The project which has been funded by the government of Uganda is being implemented by DIMO a power company from Sri Lanka. According to the Minister, the project, which is worth UGX 18 billioncovers a total  of 145km of Medium Voltage, 267km of Low Voltage, plus the installation of 94 transformers in nine districts.
In Sheema, the project covers the areas of Bunyagongo, Kagorogoro, Rwenkarabo, Rwentaka, Katete, Mukombesa, Kyagaju, Kyeruma, Nyakachemba, Bubaare, Nyabirerema, Nyabuhama, Kagango, Kishenyi, Rwenshama, Nyabishera, and Ryenzokyi.
This comes at a time when the government has reduced the no pole connection cost from UGX 720,883 to UGX 470,000. According to Hon. Nankabirwa, the electricity connection applicants are required to make a down payment of UGX 200,000 and access a credit of UGX 270,000 from Uganda Development Bank which is to be paid within a period of 8 years at zero interest rate.
The minister urged the residents to take advantage of this opportunity to get connected to electricity and use it for socio-economic development in the community – for jobs, wealth creation, improving standards of living, and health service delivery amongst other benefits.
Hon. Rosemary Nyakikongoro, the Woman Member of Parliament Sheema advised the residents to make use of the electricity connection to further embrace government initiatives such as the Parish Development Model by taking up commercial activities.
The area Member of Parliament Hon Dickson Kateshumbwa tasked the community to  remain vigilant in the  fighting against vandalism of the electricity infrastructure which has become rampant in the recent past.