Infrastructure
Uganda crowns World Habitat Day celebrations with the first ever National Housing Symposium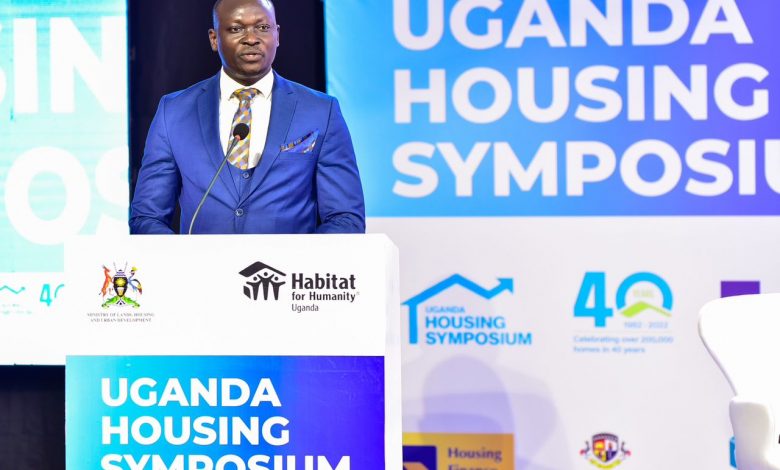 Uganda joined the rest of the world to commemorate the World Habitat Day on 7th October 2022 with the first ever annual Uganda Housing Symposium themed "affordable and inclusive housing solutions for all."
The symposium was dominated by discussions around the key challenges facing the housing sector in Uganda, highlighting  the mitigation strategies that have been used so far and exploring required innovate solutions for accessible, inclusive, affordable, and decent housing for  the benefit  of  all Ugandans.
The Annual Uganda Housing Symposium was organized by Habitat for Humanity Uganda (HFHU) together with the Ministry of Lands, Housing and Urban Development and other partner institutions and organizations.
It brought together HFHU development partners, private companies, academia, civil society organizations, housing enablers, policymakers, and building materials service providers to discuss and show case housing innovations and best practices across Africa to enable more Ugandans access low cost housing and live decently.
While opening  the symposium, Hon Judith Nabakooba the Minister of Lands, Housing and Urban Development (MHLUD)  said that the government of Uganda through the  ministry of Lands is committed to facilitate investors and other private sector players to offer solutions for affordable and decent housing in Uganda.
"As government we are reviewing the property tax policies through amendments to ensure that housing is affordable for all. We are also targeting inclusive initiatives to make our housing sector better especially for the slum dwellers in the cities and urban ," she said.
Housing Finance Bank Managing Director Michael Mugabi, as one of Habitat for Humanity's partners, also highlighted the need for financing affordable housing noting that the houses being brought to the market currently do not address the aspect of affordability and sustainability.
"At Housing Finance bank, we had to tweak our model to offer incremental housing solutions, largely because the majority of the population builds in phases. We are addressing this with a solution from a demand perspective. This way, we can understand the needs of those at the bottom of the pyramid, where the biggest gap is. This is why we speak of affordability!"
Robert Otim, the National Director of Habitat for Humanity Uganda (HFHU) said the Uganda Housing Symposium was organized to bring together likeminded actors in the sector to discuss and create solutions that resonate with the majority of Ugandans.
"As Habitat for Humanity, we are committed to continue working with the Ministry of Lands Housing and Urban Development and various stakeholders to convene the annual housing symposium in Uganda. We hope that this maiden housing symposium will provide us with lessons to improve the subsequent convenings as part of an annual World Habitat Week.
The Symposium was crowned with the closing remarks  by the Minister of State for Housing Hon. Persis Namungaza who pledged to rally government support in partnership r with Habitat for Humanity Uganda to coordinate the Uganda Housing Symposium as an annual event in commemoration of the World Habitat Day.
Habitat for Humanity Uganda is a leading housing organization affiliated with Habitat for Humanity International, a Christian, nonprofit housing organization that helps low income people around the world access decent housing.
For 40 years now, Habitat for Humanity Uganda has been dedicated to eliminating poverty housing in Uganda through empowering the most vulnerable communities in Uganda to overcome the chronic lack of decent and affordable housing. It has built and improved over 200,000 houses; transforming the lives of over 1.5 Million people and supporting over 2,000 youth acquire vocational training.