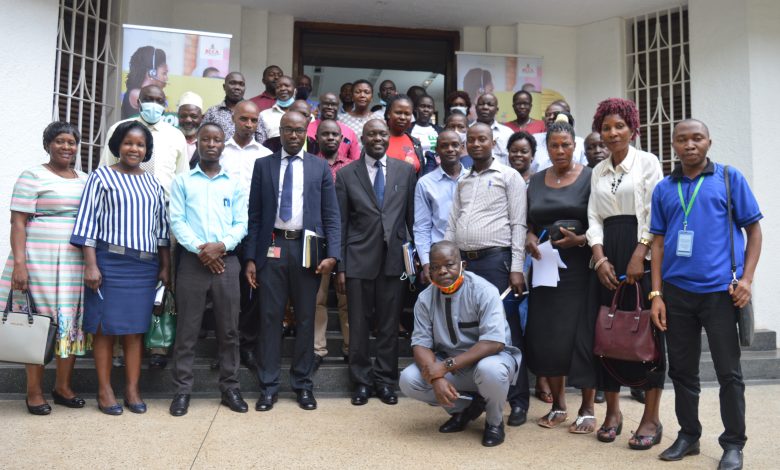 By Gloria Kembabazi
Head teachers and teachers from 50 schools in the five divisions of Kampala district were privileged to take part in a hygiene workshop held at KCCA City Hall aimed at increasing hygiene awareness among pupils in both public and private schools.
The workshop was organized by Population Service International Uganda (PSIU) with funding from Unilever in collaboration with KCCA Directorate of Education and Social Science, Water and Sanitation Department, and Directorate of Public Health and Environment.
Participants received training through various interactive sessions facilitated by the KCCA Weyonje team which were aimed at empowering them to be trainers of hygiene promotion to pupils in their respective schools.
They were taken through the various behavioral change materials and ways through which they can encourage learners to wash their hands with clean water and soap at all critical moments to prevent diseases which include; the WASH prayer, WASH song among other games.
Mr. Charles Bonnie Maginot the KCCA Deputy Director of Education and Social Science emphasized the WASH (water, sanitation and hygiene) component as an important element that a good school must have when creating hygiene behavioral change among pupils.
David Esuku, the Manager Education Operators at KCCA appreciated Population Service International and the Weyonje team for the innovative ideas which are more friendly and make the school more interactive for the school going children in terms of the wash song, wash prayer, talking compounds and the behavioral change games which are so interesting for the children.
The training also empowered the teachers especially the male to pay attention and assist guide girls to maintain hygiene during their menstrual periods. Owor John Patrick, a sanitation teacher from St. Joseph Nsambya Girls Primary School expressed his gratitude towards the training.
"With this training we hope to create impact not only among the learners but also in the communities where they come from. When you train a child, they will pass on the message to their parents and guardians," he said.
Ms. Anne Abia, a teacher from Bukoto Muslim Primary School noted in order for the children to study and learn from a clean environment, she will motivate them by rewarding the children in various ways.
Gideon Senoga, the Social and Behavioral Change Coordinator at Population Service International Uganda empowered the teachers to create WASH committees in their schools to ensure continuity of the campaigns in schools.
"A competition shall be held in 50 schools in Kampala city with an objective of increasing hand hygiene awareness after which a champion will be crowned," he said.
The schools will take part in the competition starting at division level from which the best shall compete at city level. Winners shall be awarded grand prices and framed certificates for participation.
The participating schools will also receive washalots, which are water taps that can enable a big number of pupils wash their hands at the same time.